Okay, so here's a blog post all about my book, which officially releases on October 15th.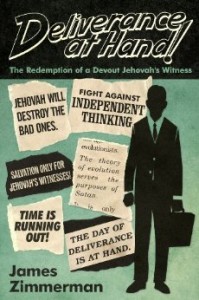 My book is titled Deliverance at Hand!, complete with that exclamation point, just to ensure awkwardly punctuated sentences ensue whenever it is mentioned (just like this one). The subtitle is The Redemption of a Devout Jehovah's Witness. Just the other day, someone asked me what "redemption" means. You can find the answer HERE. The book is 342 pages long, though there are some Roman Numeral pages at the start, and I'm not sure if they count for anything or not.
If you'd like to purchase a copy of the book, the easiest way to go about it is to CLICK THIS LINK. A few people have told me they have issues with Amazon, and a few people have asked me if I have issues with Amazon. I suppose if I dig into the background of any corporation, I'll have issues with it. But, um, yeah, it's fine with me…go ahead and buy it from Amazon.
But if that really bothers you, perhaps you'd rather buy it from Barnes and Noble? If so, CLICK THIS, and revel in your smug superiority.
Another option is to buy it from Minnesota Atheists' website. If you do, a portion of your payment will go toward that organization.
The book will also be available at a few bookstores, but I don't know which ones, so go look around if you want to and let me know.
I'm going to give a presentation at the Minnesota Atheists' monthly meeting on Sunday, October 20th. It's in the afternoon, at Hayes Community Center in Apple Valley. CLICK HERE TO FIND OUT THE DETAILS. And if you're the kind of person who prefers to sit at home on Sundays and watch men run around with a "ball" for about five minutes over the course of three-and-a-half hours, don't worry, the Vikings are not playing this Sunday.
If you'd like to learn more about the book prior to purchasing it, you can check out my interview on The Thinking Atheist. This is a lengthy podcast, so if you just want to hear my segment, scroll over to the 8-minute mark. Actually, the interviewer was more interested in finding out about Jehovah's Witnesses in general than about my book, so there's actually not too much about my book in this interview.
Another option is to watch my interview on Atheists Talk:
I was also recently interviewed on the Geeks Without God podcast. Here's a LINK TO THAT INTERVIEW. They really liked the book, at one point comparing it to a novel (which they assured me was high praise). We also talked about Northern Exposure, Mozart and the Whale, and Panera sandwiches.
If you don't have time to slog through a podcast, then here's something that will take you less than a minute (I hope!) to read. It's a review of the book from Library Journal:
Minnesota-native Zimmerman (editor, Minnesota Atheist Newsletter) grew up a devout Jehovah's Witness but slowly began doubting his faith until he became convinced that the God of his religion and the Bible does not exist. In young adulthood, he devoted hundreds of hours to service and was regularly called upon to give talks and be a leader at his Kingdom Hall. His personal experiences and struggles during these years form the basis for this glimpse into the everyday life of devout Jehovah's Witnesses. Unlike Jocelyn R. Zichterman, author of I Fired God, Zimmerman did not experience abuse; he simply began questioning the dogmatism he had been taught as he witnessed double standards, inconsistency, and illogical thinking by leaders within the "balsam of Gilead" (New World Translation of the Bible). A memoir, his book does not attempt to cover what the Watchtower Society believes and teaches but simply relates his personal understanding and experiences. VERDICT An optional purchase for most libraries, accounts like Zichterman's, mentioned above, or Lauren Drain's Banished: Surviving My Years in the Westboro Baptist Church.—Ray Arnett
Oh, and be sure to "like" the Facebook page. It'd be nice to get 333 "likes" on that page, and you can help make that possible.