If we're looking for the source of our troubles, we shouldn't test people for drugs, we should test them for stupidity, ignorance, greed, and love of power. -P.J. O'Rourke
There is a cult of ignorance in the United States, and there always has been. The strain of anti-intellectualism has been a constant thread winding its way through our political and cultural life, nurtured by the false notion that democracy means that "my ignorance is just as good as your knowledge." -Isaac Asimov
Maybe January isn't the worst month. This is the only month this year in which the United States has a competent, qualified President. For two-thirds of it, anyway.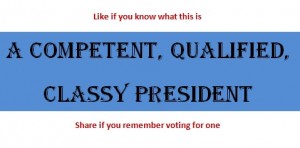 In the days following the election back, what struck me most was not the collective crying and worrying on social media. There was plenty of that. A coworker asked – to anyone reading – how was she going to tell her little daughter that the bad guy won? My mother-in-law confessed to having lied awake that night crying at the electoral results. Jennifer's midwife wrote that she was heartbroken, especially given that her poor health likely means she will never vote in another presidential election. My oldest friend washed his hands of the situation and said he was leaving for a while.
What struck me most wasn't the Electoral College, either. In the days that followed, some people bemoaned its very existence. My wife suggested the Electors will be faithless against the presumptive nominee, but I told her the vast majority will simply fall in line, thus proving the ineffectiveness of their position. A coworker lamented she wasn't sure – "I can go either way," she said, regarding the continued existence of the College. I said no. "It's an anachronism that is long past its expiration date." Like blue laws, no American would seriously advocate for it if it didn't already exist. Blowhards on talk radio asserted that the College was wonderful, and those who are against it are only against it because their candidate lost. For the record, no. I'm against it either way. Jennifer said maybe this will get people to finally abolish this archaic institution so that we can move closer to a true democracy. "No," I said, "no one moved to deconstruct it in 2000. Why would now be any different?"
What struck me most wasn't the surprising turn of a nearly inevitable assumption. On our walk to the polling station, Jennifer stopped Owen and Isla on the sidewalk and said, "You guys have to remember this day. We are going to elect the first woman president. You have to tell your children about this one day – that you were part of it!" Owen pointed out that, at 11 years old, he's disenfranchised and thus, technically, not a part of it. But that didn't stop us from snapping photos, including one of Jennifer and Isla with their arms around each other, post-voting, with "I Voted" stickers affixed to their jackets. That evening, as we dined, I opened my laptop and tried to calm my nervous wife – "Look at this chart," I showed her, pointing out a list of the states by their recent polling. "Clinton will win everything in this column, and she only has to win one or two states in this other column – and most of those went for Obama in 2012." I even prepared a graphic to post online. Titled "Our Presidents," it displayed four rows of men – the simple, rounded shouldered, neckless men that adorn the doors of public restrooms. One was slightly fatter, to indicate Taft. One was in a wheelchair, and the penultimate figure was black, both for obvious reasons.  The final figure, though, was the woman figure. Similar to the man figure, but with a skirt, or maybe it's a superhero cape.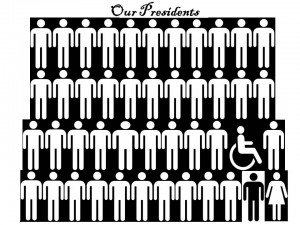 No.
What struck me most was that no one could honestly say, This is Good. This is a positive turn for our nation. One of my coworkers – a lifelong conservative – simply posted online that no candidate truly cares about us. A twenty-year-old I've known since he was born posted in naïve adolescent abandon how funny he found it that everyone was so upset; he didn't care at all, he wrote, because it didn't affect him. A Republican said the upside to this election is that hopefully it will get his party to nominate qualified, dignified candidates from here on out. Another Republican posted that, despite his incompetence, at least the winning candidate won't stop Congress from repealing ObamaCare. Another Republican, who had posted oodles of glowing adoration for McCain, and a smattering of appreciation for Romney, posted nothing. Even the morning radio host, who hadn't said a single laudable sentence about Clinton all year, said that Presidents are, after all, only figure heads, and at least the bizarre outcome kept out a woman we're all tired of. Conservatives online and at work backpedaled – "Woah, I didn't think he would win" – or apologized. "This doesn't make me racist," was an unnervingly celebratory chant. "It's okay, Mama," Isla said, "I will still remember this as a special day."
In the days following, one of our Bernie-or-Bust friends confessed she just couldn't bring herself to vote for Clinton. "She wanted Bernie or bust," Jennifer said, "So I hope she's happy with bust." I told Jennifer I didn't understand that logic. "It's like, if I got back my draft paper from my professor and she wrote 'C' on it, and I said, 'No, I deserve a B,' and she said, sorry, you're getting a C, and then, just to spitefully harm her, I didn't turn in the final paper and ended up with an F." Except, it didn't harm the professor. It only harmed me.
I passed coworkers in the hall, who would respond to "How are you?" with "Oh, I'm hangin' in there" or "I'm…okay," with unusual gravity, as if they were really considering my innocuous query. One worker, with her usual gruffness that has always drawn me to enjoying her company, simply shrugged and asked, "How are you?" giving the last word a purposeful emphasis.
A few weeks later, my brother-in-law – w ho defended his vote by sharing a video of a woman bloviating how pleased she was with the election because "maybe some of us are tired of all the baby killing and the persecution of Christians" and something about being sick of the gay lifestyle being thrown in our faces and smart people thinking they know everything – invited Owen and me to go see Rogue One with him. I hate going to movie theaters nowadays. I didn't feel much like being with my brother-in-law for four-plus hours. But it was Star Wars, Owen's all-time favorite chunk of culture, and I knew at some point in the next 30 days I would be compelled to bring him to the theater. Twelve commercials in, my brother turned to me in his La-z-Boy theater seat, repositioned his pop-corn, and said, "You know, I just think we gotta see what he's gonna do. He's not even President yet, and people already on his case." I wanted to say that his words were a contradiction from everyone who said the good thing about their candidate is that he tells it like it is. And I wanted to say that the candidates just completed a 12-month job interview, so if we don't know what he's "gonna do," then we weren't paying attention. And I wanted to say that the statements and cabinet picks since Election Day did not give me any reason to reassess my position on his incompetence, narcissism, and dismantling of the past decade's progress.
But I didn't want to create an awkward, tense bubble around us – especially when I was tethered to my seat for the next 2 hours and 33 minutes (3 hours and 33 minutes including commercials). Besides, Paul Simon's The Werewolf was looping in my head, so I couldn't really focus on what I wanted to say, anyway.