This week marks the 3-year mark in our current residence. As I've done semi-annually since we moved in, I will hereby provide an update on improvements we made to our home in the past six months.
By the way, if you're interested, here's the blog post detailing what we did during the six months prior to these most recent six months.
OWEN'S ROOM
-Nothing
ISLA'S ROOM
-Refinished the floor.
-Nothing
Yeah, I'm a little sad about this, but we really didn't make any improvements in her room during the past six months. But we came really close. For one thing, I obught the quarter-round needed to complete the trim. I painted it, too. But at the moment, it's still sitting in the garage, so I can't really count this as an improvement yet. Isla's room still lacks a doorknob, too. I took in the original doorknob to have it refurbished. So…any day now her room will have a doorknob, but right now nothing.
ADULTS' ROOM
-Replaced smoke alarm
UPSTAIRS BATHROOM
-Installed face cloth holder.
UPPER STAIRWELL
-Replaced one miniblind with honeycomb blind.
LIVING ROOM
-Replaced smoke alarm
-Replaced three miniblinds with honeycomb blinds.
Okay, if you've been to my house, you might know that we have four windows in our living room, so admittedly, it's kind of weird that I only replaced three of the four. But here's how that happened:
First, I accidentally broke one of the crappy old miniblinds about two weeks before Emmett was due to tbe born. So, for a few days, we had no treatment on that window. Jennifer said something like, "I don't want to be giving birth in the living room with the window wide open like this," so I went to the store and purchased the style of honeycomb blind we now have.
Second, a couple of month later, Menard's was having a sale on window treatments, so I stopped in to buy the other three. But they only had two. So that's that.
OFFICE / TOY ROOM
-Nothing.
DINING ROOM
-Nothing
KITCHEN
-Nothing.
MUD ROOM
-Nothing.
LOWER STAIR WELL
-Nothing.
BASEMENT COMMONS AREA
-Nothing.
DOWNSTAIRS BATHROOM
-Nothing.
DOWNSTAIRS SPARE ROOM
-Nothing.
YARD
-Removed gazebo.
Yep, the big thing is finally gone. Now I only own two buildings instead of three.
-Removed the lower portion of our deck.
-Installed planter against deck.
Okay here's what it looked like in mid-June with the Gazebo and half the deck gone: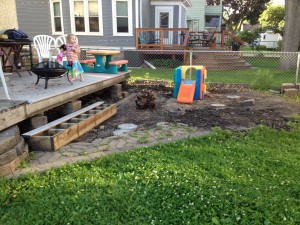 Notice how it's just one big muddy area, the planter I used to have abutted to the lower deck is now dismantled, and the remaining deck is being propped up by retaining wall bricks.
Here we are a couple of weeks later: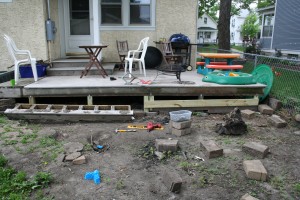 Now the deck is being held up properly, with treated-wood beams. I've also leveled the ground in front of the deck somewhat and I began installing treated planks on the right side of the deck. This was to form the back side of the planter.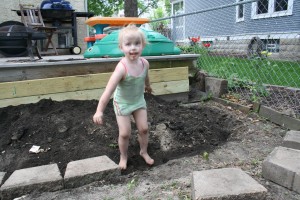 Now you see the planter is starting to take shape. All the planks are installed, and here you can see I am installing the first level of bricks. It's important to tamp down the ground before placing the bricks in place. No need to waste money on a fancy tamper when there's a perfectly good 3-and-a-half year old available.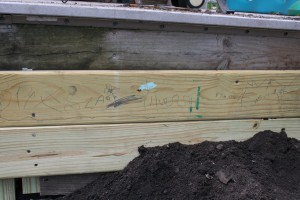 Here's a close-up of the planks. Notice Isla figured they made a good canvas and penciled in some artwork and her name.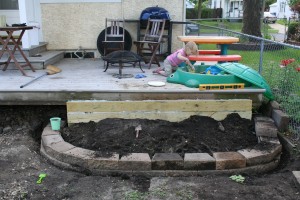 Here's some more progress. Now you can see two rows of bricks are in place, and the third row has begun. Meanwhile, Isla supervises.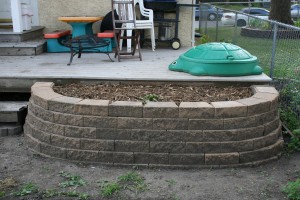 Here's the finished project. Six rows of bricks. Lanscaping fabric installed, and then a thick layer of mulch.
-Weeded, installed landscaping fabric and mulch to one planter on south side of house.
-Installed brick walkway leading from workshop to driveway.
-Weeded behind garage, installed landscaping fabric, retaining beams, and rocks.
This was a big job, but it was also a lot of fun. Owen and I went behind the garage one morning and hacked, pulled, and hedge-trimmed our way through. Some of the weeds were taller than me, and the resulting brush filled five large yard bags. I forgot to take a before photo, but here's an after…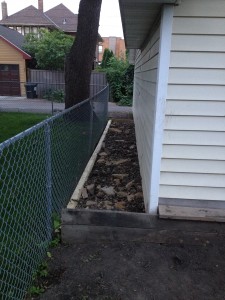 Owen enjoys the fact that he can now cut through this way on his way to his friends' houses.
GARAGE
-Nothing.