The least noble item on my Ultimate To-Do list (the list most people call their "Bucket List," an appellation I despise) is: Read a Smutty Romance Novel.
Last week, I fulfilled that laughable life-long goal. I read Wedded, Bedded Betrayed.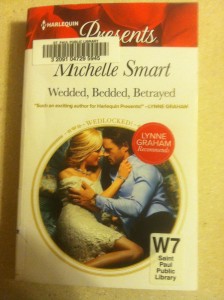 Before you judge me, let me explain. Then, by all means, please judge me. Label me, too. I don't care.
For over two years, when I was a high-school student, I worked at the public library as a shelver. That meant I took books that were returned, organized them onto a cart, then wheeled the cart out to the shelves and placed the books back in their proper places. The paperback fiction section had its own room and, besides segregating by age group, the books were also separated by genre. The romance section was the largest section, and the majority of the books had a certain uniformity to them. They were just under 200 pages, white and red dominated the covers, and a photo on the cover was usually framed inside a circle or oval and depicted a heterosexual couple just moments away from ripping off each other's clothing. Lots of skin – the man was often shirtless, and the woman's dress/skirt/gown featured a slit that went practically to her waist. They were either on a bed, or foregrounded by fireworks, a medieval castle, or a luscious countryside. Their limbs were intertwined, with the racier images skillfully placing the limbs in such a way to cover revealed flesh that, had it been shown, would have landed the book in the porn section instead of the romance section. Nearly all were published by Harlequin Romance.
I loved putting these books back on the shelves. Not, as you might think, because I was a hormonal teenager who liked the pictures, but because they were so uniform in size (and dominated by a few authors) that putting them in order and dropping a half dozen onto the shelf at once was a very speedy, satisfying job.
They were also very popular. It was easy to fill a cart with nothing but romance novels, and there were always middle-aged women standing in the section gobbling up the books – ten at a time, in some cases.
I decided I just had to read one at some point in my life.
But like my insistence that I read A Christmas Carol in mid-December, I likewise had some stipulations. The book had to:
*Be the same size as the once I remembered from my shelver days
*Be published by Harlequin
*Feature a racy photo on the cover
*Have a hilarious title
*Be obtained from the public library
*Be read by me while on a vacation, preferably one featuring a beach
Okay, so on August 11th, I checked out Wedded, Bedded, Betrayed from my local library. From August 15th-17th, I read the book while on vacation at our family's cabin on a lake. I read most of the book while sitting a few feet from the beach.
The cover wasn't quite as racy as I had hoped. I wished that woman's dress was unzipped, or that the guy's shirt was off. I mean, look at them – you can sometimes see people embraced like that at a mall or a park. Still…it's not exactly asexual.
The title, likewise, isn't quite up to snuff. I was hoping for a book title consisting of a pun, such as Inside Her Heaven, or When He Comes, or The Long, Hard Voyage Around the Curves. Okay, I made up that last one. Still…this title did make me laugh.
More than that, I laughed at the other stuff on the cover.
First, notice the blurb directly under the title. It's from Lynne Graham. Who the hell is she? I don't know, but there's also a call-out circle just below it informing me that "Lynne Graham Recommends" this book. Yeah, no shit – I see her blurb right above!
But there's also more Lynne Graham. Check out the last page of the text: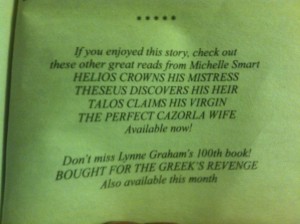 Right after telling me that the author, Michelle Smart, has some other books I might like, the page then tells me to be sure not to miss Lynne Graham's 100th book! A hundred books! Holy cow! Oh – and the book is available this month!
Okay, but back to the cover. Here's the back: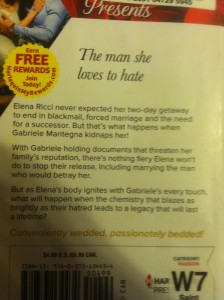 "The man she loves to hate." God, that's great.
Here's the plot: A multi-billionaire breaks into his adversary's mansion to steal documents that will clear his name and implicate his adversary's. On the way out, though, he spots Elena, who is gagged and handcuffed to a bed. He rescues her, realizes she's the daughter or his foe, and says he won't go public with the information he has just obtained if – and only if – she agrees to marry him, pretend she loves him, and has child.
This is difficult for her not just because she thinks he's a criminal who hates her family, but also because, despite running the family's auto business (the European section, at least), she's been very sheltered. Unlike her four older brothers, she was homeschooled. She was never allowed to leave the mansion. And, though she's in her mid-twenties, she's a virgin.
Of course they fall in love.
By about the halfway point in the book, I wondered what, exactly, made this book different than, say A is for Alibi, a book I read in which Detective Milhone falls for a man who has an impressive "knot" between his legs (when she sees him in his briefs), and with whom she has good – not great – sex. Or what made it different than Angels and Demons, in which Professor Langdon ends his romp around Italy and the Vatican by having mind-blowing sex with a Yoga master.
Here's the difference: The book never looks away from the sex. So often in books and movies, the couple kisses, they lie down in bed, and then we cut to the next scene. Or, maybe we read of them having sex, but were just told they did it (such as in the two examples above). In this book, in which the couple has sex at least four times, every details is provided. Elena's train of thought – especially during her first experience – never ends. Even once they're done, and she rolls over fully expecting him to fall asleep, we still follow her train of thought as she's pleasantly surprise that he gently puts his arm on her waist and snuggles with her through the night.
A very corny, unbelievable story but – since I've also read The Old Man and the Sea and On the Road – certainly not the worst work of fiction I've ever sat through.
I've now moved "Read a Smutty Romance Novel" from the "Things I Want to Do" column to the "Things I'm Glad I've Done" column.
I don't plan to read another Harlequin.