This week marks the 2.5-year mark in our current residence. As I've done semi-annually since we moved in, I will hereby provide an update on improvements we made to our home in the past six months.
By the way, if you're interested, here's the blog post detailing what we did during the six months prior to these most recent six months.
OWEN'S ROOM
-Refinished the floor.
Owen's room didn't need to be refinished, but it was in pretty rough shape. As an added incentive, the man who came to refinish Isla's floor charged a minimum 4-hour fee, and since Isla's room took him less than four hours, we figured it was cost-effective to have him refinish Owen's floor, too. It looks amazing now, really. We just cringe every time we hear a book or a toy sliding across the floor.
ISLA'S ROOM
-Refinished the floor.
-Installed floor trim. Jennifer and I cut, painted, and installed these pieces all around the room, including a slightly smaller style in the closet.
-Built the door frame, thanks to lots of help from my brother-in-law.
Notice how it differs from six months ago when there was no door frame or trim, and the flooring had not yet been refinished: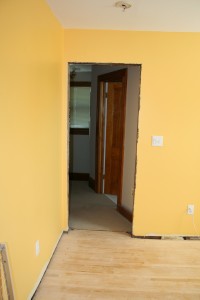 And notice how that differed from even earlier in time, when there was still carpet: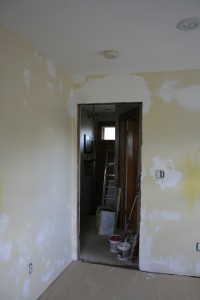 -Replaced the smoke alarm. The previous one expired.
-Painted the main door…and installed it. You'll notice, in the picture below, that it's still missing a knob, even though we already have a fancy escutcheon. Stay tuned.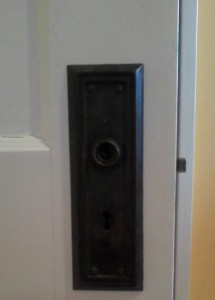 -Installed reducers on floor. If you don't know what a reducer is, it eases the transition between two rooms with different flooring. Isla's room has a main door, that lets out into the hallway, and a side door, that opens into the master bedroom. In both places, her hardwood floor meets up with carpet, so I installed reducers. Here's the one leading from her room into the master bedroom:
ADULTS' ROOM
-Replaced the ceiling fan.
The fan that came with the house lacked any sort of lighting. That was really annoying. Now we have a variable-speed frame, that matches our style better, had a lighting fixture, and even a remote. And I managed to sell the old one, so this was really an improvement in every way.
UPSTAIRS BATHROOM
-Nothing.
UPPER STAIRWELL
-Nothing.
LIVING ROOM
-Nothing.
OFFICE / TOY ROOM
-Nothing.
DINING ROOM
-Nothing
KITCHEN
-Replaced the ceiling fan.
The previous one was ugly and made a noise like it was going to come off its moorings any time we set it to a high speed. I also replaced the wall switch, too, becuase the previous one made noises (electronic; like a doorbell) whenever we turned it on or off. That was really annoying. Why do I need an electronic tone to alert me that I've activated the ceiling fan? Weird. Anyway, new fan:
MUD ROOM
-Nothing.
LOWER STAIR WELL
-Replaced smoke alarm. That one was expired, too.
BASEMENT COMMONS AREA
-Replaced outlet.
We had one remaining outlet in this area of the basement that still had a tan outlet and cover. In late December, I finally got around to changing it out with a white one to better match the walls.
DOWNSTAIRS BATHROOM
-Nothing.
DOWNSTAIRS SPARE ROOM
-Nothing.
YARD
-Nothing. Too cold and snowy to do anything.
GARAGE
-Nothing.
I've noticed here that there are a lot fewer improvements made during these past six months than during any other correspondingly similar chunk of time. My guess is that the house is in good shape now, and most things I'm doing to the house aren't so much "improvements" as "maintaining." I will make another post like this at the three-year anniversary – especially since I'm hoping to paint the living room, get my daughter's room a door knob, and fix the yard – but then I think that might be it for these routine posts.