A few years ago, I had some email exchanges with one of my uncles. One of my dad's brothers. It largely concerned religion. In fact, once I divulged to him that I no longer believed the Jehovah's Witnesses were "the truth," the correspondence completely concerned religion.
In one of his final emails to me, he said…
I can't believe that this system will go on for more than two to three years. 
He wrote that on April 23, 2007; so, six years ago this week. Already, the world has lasted twice as long as his outside guess, and his hoped-for paradise hasn't arrived.
Every year around this time, I think about this sentence he wrote. Witnesses think the end is coming any day now, a belief they've had since before they were even called "Witnesses." Back in the early 1900s, for example, they believed the end was coming in 1914. When that didn't happen, they moved their predicted end date further and further into the future. For a time, they held on to 1925, then the Watchtower Society hinted that 1975 would be the momentous year of Armageddon. By the time I was a little kid, most Witnesses were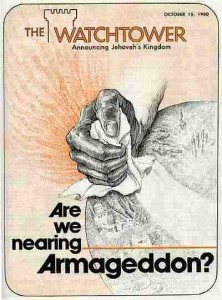 convinced the end would arrive sometime in the 1990s; the year 2000 at the latest. I was repeatedly told I would never graduate from high school, never get a job, never need to worry about a college education and certainly never have to plan for retirement.
In fact, in the mid-1990s, I was in a car with several other Witnesses, and one of them asked us how long we all thought this world would continue. Everyone else in the car was sure the end would arrive within a year's time. I guessed five years, and everyone gasped at the audacity I had to make such a long-term guess. They said I wasn't thinking right, and that if I thought the end was five years away, I might lose my sense of urgency.
Turned out, I was right: Five years came and went, and the Witnesses still weren't in paradise. Five years came and went again. And again.
Anyway, I'm not trying to rip on the Witnesses here. I just think it's sad. My uncle is nearing his 50th birthday and yet, through all those decades, he's been convinced that the end was right around the corner – that it would be here in two or three more years, tops.
As a dutiful Witness, he, of course, shuns me, so I haven't spoken to him since we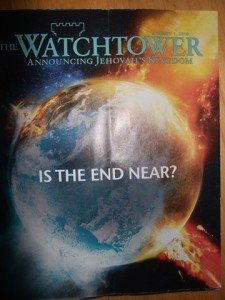 corresponded via email six years ago this week. Still, I wonder about him and the other Witnesses every April 23rd – does he remember saying that the world would end in three years? Does he recall how often he's had to revise his belief of when God would destroy the world? And what about now; if I asked him, would he say he thinks the end is coming in six months, or three years, or ten years? How does he feel now that he's lived long enough to graduate from high school, see his nephew graduate from high school, gotten married, outlived his brother, and now has to think about his impending retirement?
Like the "good" book says, expectation postponed is making the heart sick.